The practice of meditation may be centuries old, but medical researchers keep finding ways it can help us deal with the stresses of modern life. In this video, I will tell Dr. Oz just what you can get by spending a few minutes a day in meditation.
Meditation is a great strategy for de-stressing in the moment. Sometimes anxiety may build as a result of a stressful event, which is when some meditation strategies may be especially useful. There are many books dedicated to meditation, and one of these books may be a very useful addition to your library.

One of the simplest meditation strategies is to simply focus on your breathing; slow it down and take long, deep breaths through your nose that you blow out through your mouth. Mentally count as you breathe in for five seconds: one-potato, two-potato, and so on until you get to five-potato, then blow out for five seconds, counting the same way (saying "potato" approximates a second). Do this five times and you'll find that your heart rate has slowed down, and you may find it easier to find a solution to the situation at hand. This strategy also reduces the likelihood of anxiety as a result of being stressed. Other times you may retreat to a quiet space and sit quietly, recalling a place and time when you felt most at peace.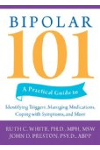 Meditation can evoke the relaxation response, a physiological sea change that slows heartbeat and breathing by focusing you on a word, phrase, prayer, or repetitive physical activity. Landmark research done by the renowned mind-body pioneer Herbert Benson, a cardiologist and president of the Benson-Henry Institute for Mind Body Medicine at Massachusetts General Hospital, has shown that regularly evoking the relaxation response lowers high blood pressure and eases many stress-related ailments.
Meditation not only helps reduce stress by lowering your heart rate and blood pressure, it can also help you focus, learn and remember. Try it by sitting in a quiet, comfortable place, closing your eyes and relaxing your muscles. Breathe through your nose and, as you exhale, silently say a single-syllable word, such as om. Do this for 10 to 20 minutes. When you're done, sit quietly and keep your eyes closed for a few minutes. Open your eyes and sit quietly for another few minutes before getting up.
Did you know something as simple as sitting still can help your stress, sleep, blood pressure -- even brain health? Dr. Oz meditates every single day! Get his quick and easy routine from master of meditation Deepak Chopra.
Continue Learning about Meditation