One way would be to be born with a heightened awareness of energy, which would enable you to sense or see the aura and the energetic changes in it. There are people who have this ability naturally. Another would be to take special training to help you cultivate heightened visual acuity to this subtle energy. Grandmaster Choa utilized people with a sensitivity to energy - some of whom were born with the skill, others who developed it through training - in his original experiments to develop the Pranic Healing system. But a third, easier, and quicker way to detect changes in the aura is to learn scanning, which is the ability to feel the contours and strength of energy aura. Scanning is a heightened sense of touch and requires only that you sensitize the palm chakras in the center of your hands.
Scanning is the first of three energy manipulation techniques that will enable you to perform healing work directly on your aura. Energy manipulation is the third of the six steps to self-healing. You will use scanning in three ways:
1. to feel your energetic anatomy for any disturbances that may indicate a health problem;
2. to measure your progress in generating prana by feeling the increase in your own energy as you perform the exercises;
3. to get tactile energetic feedback to reinforce your practice.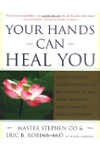 Continue Learning about Meditation