It is said that years ago a certain spiritual master held a contest among his students to see who could draw the best representation of complete inner peace. Most of the paintings were of vast mountains with snow-capped peaks standing silent and majestic, or calm lakes, reflecting perfectly the trees around them in a glass-smooth surface, or dark forests of fir trees, so dense and quiet you could hear a leaf falling to the ground. But one student painted a scene of a violent storm with thunder cracking and lightning flashing while rain poured down in torrents, feeding a waterfall that crashed down a mountain. The student also painted, behind that waterfall, in a dark, dry crack that extended deep into the rock of the mountain, a single live branch on which sat a small bird's nest. In that deep crevasse in the mountain, the mother bird and her babies were dry, safe, and quiet while the storm raged around them.
Which of the pictures most accurately reflects the physical world and our quest for calm in a world of turmoil? Which of the pictures best portrays our search for inner stillness amid the ceaseless, disordered chatter of our "monkey mind"? This is the essence of our inherent desire to make contact with the soul: We need to know that there is order or meaning in a disorderly or meaningless world, that there is a place of inner peace amid this chaos.
The formula through which we tap into this inner peace is simple: "Flush out the channel," or open the spiritual cord that runs from the crown chakra to the soul; and "tune in" to the right frequency, by cultivating stillness and awareness during meditation. When the mind is still and the body energetically clean, the soul can reach down and make contact with us, which gives us access to inner peace.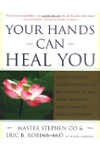 Continue Learning about Meditation