The points on the scanning checklist include:
Place your tongue on your palate.
Perform a few cycles of pranic breathing.
Tap your heart chakra several times with any two fingers of your scanning hand.
At minimum, do Hand Sensitivity Exercise 1. You can do Hand Sensitivity Exercise 2 if you have the time or just want to increase your sensitivity even more.
Keep your fingers, hand, wrist, and arm relaxed; keep your armpit open.
Look briefly at your scanning target to establish your intent to scan.
Breathe slowly and deeply as you scan.
Keep your awareness on the palm chakra of the scanning hand. Look at your target first, but as you scan keep your awareness on the palm chakra of the scanning hand. Your concentration level should be about the same level you use in reading a book. Remember, in scanning, you are feeling the flow of energy rather than seeing it. Keeping your awareness on the scanning hand emphasizes feeling rather than seeing the energy.
Keep your eyes open or closed, whichever helps you to sustain your focus better.
Keep a positive, open-minded attitude. Doubts, fears, and apprehensions inhibit your ability to sense subtle energy.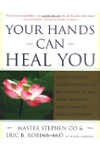 Continue Learning about Meditation Techniques