Here are few notes on practicing the self-awareness and higher-level thinking exercises:
-The right length of time for the sessions on self-awareness exercise and high-level thinking exercise is 15 to 20 minutes. A session longer than that may make you tired. You can always go back later and try again.
-It helps to prepare before using these techniques. Think through your self-interview; perhaps even prepare some questions in advance. But don't try to anticipate where the session will go; that's injecting too much conscious thought into what should ideally be a spontaneous dialogue with your inner self or unconscious. You should know enough about yourself and your mind and body to have a sense of some possible causes for the problem and where the dialogue might go. Consider possible directions ahead of time.
-Stay flexible and spontaneous. Your session may end up going in a direction much different from the one you thought it would take. With the self-awareness exercise, go with the flow of your impressions. With the higher-level thinking exercise, keep asking gentle but probing questions after each answer until you get to the root cause. If you are unable to get any response at all, or the session simply goes nowhere, it's likely evidence of a deeply rooted negative emotion or limiting belief. Here are two suggestions if you get stuck:
1. Combine direct clearing techniques with pranic breathing and follow this with energy manipulation techniques, especially specific stress-reduction remedies that focus on cleaning out congestion from the solar plexus chakras (Chapters 9 and 13 in the book of Your Hands Can Heal You).
2. Try the mindfulness meditation for a while, and then go back and try these clearing techniques.
If neither of these solutions helps after a period of time, you may want to consider more traditional therapy with a professional who has experience in resolving emotionally based, physically manifesting health problems. You may want to consider one who specializes in hypnotism or bio-energetics.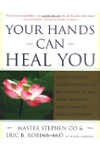 Continue Learning about Meditation Techniques