Mindfulness meditation is a form of meditation that involves focusing your thoughts on the present. The meditation practice requires a quiet space where one starts by focusing on the breath. As thoughts pop up they are noted and recognized without judgment. To keep the mind from wandering, the focus is always brought back to the breath.

This form of meditation was brought into the mainstream in the United States by Dr Jon Kabat-Zinn a professor at the University of Massachusetts. His landmark research has found that meditation can boost immune function, decrease stress, blood pressure and improve mood.


Mindfulness meditation builds upon concentration practices. In mindfulness meditation, once you establish concentration, you observe the flow of inner thoughts, emotions, and bodily sensations without judging them as good or bad. You also notice external sensations such as sounds, sights, and touch that make up your moment-to-moment experience. The challenge is to avoid latching onto a particular idea, emotion, or sensation, or to getting caught in thinking about the past or the future. Instead you watch what comes and goes in your mind, and discover which mental habits produce a feeling of well-being or suffering. At times, this process may not seem relaxing at all, but over time it provides a key to greater happiness and self-awareness as you become comfortable with a wider and wider range of your experiences.

Above all, mindfulness practice involves accepting whatever arises in your awareness at each moment. It involves being kind and forgiving toward yourself. If your mind wanders into planning, daydream, or criticism, notice where it has gone and gently redirect it to sensations in the present. If you miss your intended meditation session, you simply start again. By practicing accepting your experience during meditation, it becomes easier to accept whatever comes your way during the rest of your day.
Unlike transcendental meditation, which is a form of mantra meditation, mindfulness meditation focuses on the present moment. This present-moment focus, experts believe, improves well-being by allowing individuals to become aware of their sensations, emotions, and thoughts that arise in the mind without judgement or reactivity. This form of meditation is used not only in meditation sessions, but also in mindfulness-based cognitive therapy and behavior therapy for those suffering from recurrent depression.
This content originally appeared on
doctoroz.com
Mindfulness is a traditional Buddhist approach to meditation and allows your mind to be full of whatever you are doing at that moment, whether dancing, gardening, writing, or listening to music. Intense focus is the key to mindfulness, as well as the ability to keep negative thoughts from intruding on the moment.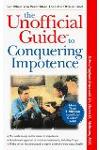 More About this Book
Unofficial Guide to Impotence
The Unofficial Guide to Conquering Impotence delivers the inside scoop on impotence: the truth about Viagra, what treatments really work, and how lifestyle changes can aid in conquering...
Mindfulness meditation trains our ability to be in the present moment. Generally we practice attending to something happening in the present moment, such as our breathing, and when our mind wanders off, we gently return our attention back to the present moment. To give mindfulness meditation a try, click here: http://marc.ucla.edu/body.cfm?id=22
Continue Learning about Meditation Techniques