Stillness is an inner state brought about by becoming aware of the space between your thoughts and focusing on this gap between your impressions. Just as retention, the pause between inhalation and exhalation, is the secret to a powerful pranic breath, the stillness or gap between thoughts is the key to meditation's physical, mental, and energetic health benefits.
As you progress in meditation, your goal is to stretch out that gap, that stillness, and then maintain your awareness of it. The reason is simple: When there is chaos in the mind - through constant chatter and the presence of negative emotions, fears, and anxieties - true mental and physical health is not possible. Nor are higher goals such as self-realization. But stillness makes these goals attainable.
Zen masters used to pose this query to their students: Which is more important, the vase or the space the vase surrounds into which we place the flowers? The answer is that both are equally important. You can't pour water or place flowers into a solid object. And space needs form around it to be useful. In the same way that aspiring Zen priests were taught to appreciate the space between solid objects, meditation teaches you to be aware of the silence, the stillness, between thoughts.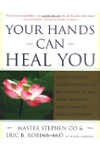 Continue Learning about Meditation Techniques