Medicare is a major effort by the U.S. government to provide affordable health insurance for Americans ages 65 and over, as well as people with certain disabilities. More than 42.3 million people benefited from Medicare programs in 2004. Medicare began in 1966, the year after President Lyndon Johnson signed it into law.
Funding for Medicare has always been a sensitive political issue. For example, recent changes and the addition of a prescription drug plan have caused significant controversy. Still, Medicare is a vital means of paying for health care for many Americans.
Medicare is a federal health insurance program for those 65 and older. It was signed into law by President Lyndon B. Johnson in July 1965 as a way to help older adults pay their medical expenses. (Medicaid, the federally run health insurance program for low-income people, was created at the same time.)
Medicare is the federal health insurance program that includes coverage options for prescription medication, doctor services, and hospital visits. Medicare services are for people with certain disabilities and for citizens or lawful residents of the United States who are 65 years of age or older.
The Medicare program has three parts:
Part A (Hospital Insurance): This benefit helps pay for certain types of hospital care, short-term skilled nursing care and some home health care. Most people get Part A automatically when they turn age 65, and they do not have to pay a monthly premium. If you are 65 years or older and are not entitled to Social Security because you did not work or have not paid enough Medicare taxes, you may be able to purchase coverage. A person with a disability who loses Medicare coverage because they returned to work may also be able to buy coverage.
Part B (Medical Insurance): This benefit helps pay for some preventive services and for medically necessary doctor services, outpatient care, and other medical services not covered by Part A. Enrollment in Part B is not required. There is a monthly premium for Part B. If you choose not to enroll in Part B when you are first eligible, you may have to pay a penalty if you decide to join later.
Part D (Medicare Prescription Drug Coverage): This prescription drug plan option is available to everyone with Medicare. This coverage may lower prescription drug costs and help protect against higher costs in the future. Medicare Prescription Drug Coverage is insurance that is provided by private companies. Participants choose their drug plan and pay a monthly premium.
Contact the Centers for Medicare & Medicaid Services (CMS) through their Web site or by phone. Generally, you or your spouse must have worked for at least 10 years in Medicare-covered employment to qualify for benefits.
Medicare is the USA's federal insurance program that helps Americans who are age 65 or older, or who have specific disabilities, pay for hospital care, doctor visits, and some other medical costs. It's very similar to the health insurance you likely have now, in that you'll pay premiums, deductibles, and co-pays to use it -- though it won't be nearly as expensive as the cost of totally private health insurance. (Don't confuse Medicare with Medicaid, which is a supplemental insurance for persons who have very little or no income or savings, and is often used to pay for nursing-home costs.)
For more information about Medicare, contact 1-800-633-4227 or www.medicare.gov.
The two main parts of Medicare coverage are Part A and Part B. There are also Medigap plans, Medicare Advantage Plans, and Prescription Drug Plans.
Part A helps to pay bills for medical care provided in hospitals, skilled nursing facilities, hospices (for people who are terminally ill), and, in some cases, your home. Generally, people covered by Medicare get Part A. You will pay deductibles and coinsurance.
Part B helps to pay for healthcare provider services, ambulance services, diagnostic tests, outpatient hospital services, outpatient physical therapy, speech pathology services, home health services, and medical equipment and supplies.
It is critical for people with diabetes to purchase Medicare Part B. You can get Part B by paying a monthly fee. Part B also has deductibles and coinsurance amounts that you pay.
Medicare Part B coverage includes:
Diabetes screening test per 12-month period for beneficiaries with identified risk factors (for the specific risk factors, go to www.cms.gov/DiabetesScreening).
Blood glucose meters, lancets, test strips, and other supplies for the meter, whether you are on insulin or not.
Insulin pumps and supplies (including insulin) for people who meet certain qualifications.
Diabetes self-management training and medical nutrition therapy.
Medicare will help pay for annual podiatry checkups, therapeutic footwear and shoe inserts, checks for diabetic retinopathy, and kidney dialysis.
Your healthcare provider must certify in writing that you need all of these items to manage your diabetes, that is, that they are "medically necessary." Make copies of your provider's written statement. Give a copy of it to your pharmacist each time you purchase these supplies so that it can be submitted along with your Medicare claim.
Medicare Parts A and B Don't Cover
Diabetes pills, insulin if you are not using an insulin pump, or syringes.
Regular eye exams, prescription sunglasses, or contact lenses.
Routine foot care, such as nail trimming or removal of corns and calluses.
Custodial care provided in a nursing home or private home when that is the only kind of care needed. Custodial care includes help in walking, getting in and out of bed, bathing, dressing, eating, taking medicines, and other activities of daily living.
For more information on Medicare, call the Medicare hotline at 1-800-MEDICARE (1-800-633-4227). Ask for a free copy of the Medicare & You handbook and check out the Medicare Plan Finder at www.medicare.gov.
Medicare provides healthcare for over 40 million Americans. Many people confuse Medicare and Medicaid. Although some people receive benefits from both, Medicare and Medicaid are two different programs. Created in 1965, Medicare is a health insurance program run by the Centers for Medicare and Medicaid Services, a federal government agency. Medicare helps to pay healthcare costs for people 65 or older or those who have qualifying, debilitating diseases, such as renal failure or Lou Gehrig's disease.
If you qualify for Medicare, you have a choice of receiving benefits directly from the Federal government, which is called original or traditional Medicare, or you can enroll in Medicare Advantage plans, which are health plans offered by private companies, much like HMOs or PPOs. Medicare Advantage plans offer the same benefits as original Medicare, except for hospice care, but they vary in terms of cost and coverage of the other benefits offered.

Medicare has four different parts, each one providing a specific category of services:
• Part A primarily pays for inpatient hospital or nursing facility care.
• Part B provides medical insurance for doctors' visits, medical services, and supplies.
• Part C is Medicare Advantage, the plans through private insurers that cover the same services provided by Medicare parts A and B.
• Part D provides coverage for prescription drugs through private insurance companies.
Medicare is health insurance provided by the federal government for Americans ages 65 and older or those between 55 and 65 with a disability. Medicare is split into Part A (hospital insurance), Part B (supplemental medical insurance), and Part D (prescription drug coverage). Part A helps pay for hospital or short-term nursing home care, hospice services, and some home health care. Although the individual doesn't pay a premium, there are some copayments and a yearly deductible. Part B is optional and covers part of doctors' bills, outpatient care, home-based physical therapy, certain screenings and lab tests, and a limited number of prescription drugs. There is a monthly premium and an annual deductible. Part D covers some prescription drug costs. Typically, there is a monthly premium, a yearly deductible, and a copayment.

Another option is a Medicare Advantage Plan, also called Medicare Part C. These plans are offered by private insurers. They provide all Part A and Part B coverage and usually offer extra benefits as well. Typically, copayments and deductibles are lower than with standard Medicare, and prescription drug coverage is included in the plan. To join, a person must have Medicare Part A and Part B coverage. He or she will continue to pay the Part B premium and may also need to pay a monthly premium to the plan. However, with many plans, the individual must see a doctor who is part of the plan's network or go to certain hospitals for care.
We all know and love Medicare, which is our federal health insurance program that helps Americans who are disabled or who are age 65 or older pay for hospital care, doctor visits, and some other medical costs. It's very similar to the health insurance you likely have now, in that you'll have to pay premiums, deductibles, and co-pays to use it—though it won't be nearly as expensive as getting private health insurance.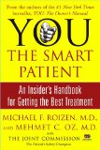 Continue Learning about Medicare