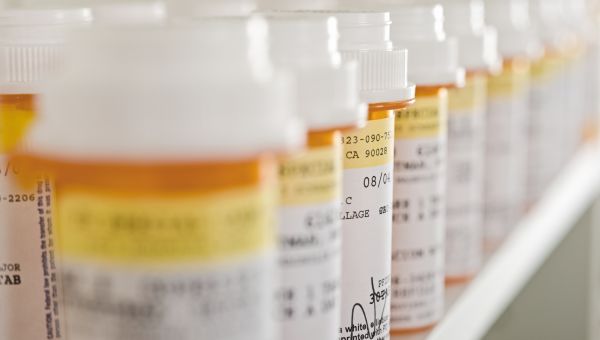 Retirees now have fewer options and more pharmacy restrictions.
Retirees gained the option to purchase prescription drug coverage through Medicare Part D in 2006. Since then, 24 million people have enrolled in prescription drug plans, and there have been several important changes to the program, according to a new Kaiser Family Foundation report. Here's how Medicare Part D has changed in 10 years.
Fewer choices. The typical Medicare beneficiary has a choice between 30 prescription drug plans, down from a peak of 56 plan options in 2007. Just three companies enroll half of all participants in Medicare Part D: UnitedHealth, Humana and CVS Health, with UnitedHealth having the highest enrollment for all 10 years of the program, KFF found. The number of unique Part D plans peaked at 1,875 in 2007, but has since declined to 1,001 in 2015, the lowest in the history of the program. Only 315 of these plans have continuously operated for the full 10 years.
Premium increases. The average Part D monthly premium, weighted by enrollment, has increased from $25.93 in 2006 to $37.02 in 2015. Most of the premium growth occurred during the early years of the program, with premiums being relatively stable since 2010. "Rising use of generic drugs, triggered by patent expirations for many popular brand name drugs, has been a major factor in slowing premium growth," according to the report. However, premium costs range from $12.60 to $101.40 for plans providing similar benefits in 2015. "Some older, established plans have raised premiums more rapidly than the national average, while newer plans tend to set premiums low in order to build enrollment, but may raise them rapidly in subsequent years," KFF found. "As a result, beneficiaries who stay in the same plan tend to pay more over time."
Higher deductibles. The standard Part D deductible has increased from $250 in 2006 to $320 in 2015. "The deductible could be as high as $360 in 2016, and that's an important amount that people will have to pay before the plan will start covering any of their prescription drugs," says Juliette Cubanski, a policy analyst at the Kaiser Family Foundation and co-author of the report. Some 45 percent of plans change the standard deductible in 2015, up slightly from 42 percent in 2006. About the same percentage of Part D plans charge no deductible, down from 56 percent in 2006. And 7 percent of plans charge a smaller deductible in 2015.
Plan design changes. Most Part D beneficiaries (80 percent) are in plans that put covered medications into five tiers with different out-of-pocket costs. The median cost-sharing amount is $1 for preferred generics, $4 for nonpreferred generics, $38 for preferred brands and $80 for nonpreferred brands. Drugs in the fifth specialty tier typically have the highest out-of-pocket costs, with half of plans passing along 33 percent of the cost of the medication to retirees, up from 13 percent of plans in 2006. In previous years there was a greater variety of tier structures including many three and four tier plans. Out-of-pocket costs for brand name drugs increased by about 36 percent between 2006 and 2015, while cost-sharing requirements decreased for generic drugs over the same time period.
Smaller coverage gap. Medicare Part D has a coverage gap, which is often called the donut hole. The 2010 Affordable Care Act contained provisions to gradually close the coverage gap, but it won't be completely eliminated until 2020. In 2015, the gap begins when you have spent $2,960 on covered drugs, after which you are responsible for 45 percent of the cost for brand name prescription drugs and 65 percent of the price of generics until catastrophic coverage kicks in. Most plans (74 percent) don't offer any additional gap coverage, and plans that do tend to cost more.
Preferred pharmacies. Most Medicare Part D plans (87 percent) now have preferred pharmacies where retirees can pay lower cost sharing for their medications, up from 7 percent in 2011. Retirees who don't shop at the pharmacies where their plan has negotiated favorable rates will pay higher out-of-pocket costs. "If you have a particular pharmacy that you like to use, then it's important to see whether there is going to be a higher cost if you continue using that pharmacist," says Jack Hoadley, a health policy analyst at Georgetown University and co-author of the report. "If you are a person who is willing to switch pharmacies, maybe you will be able to save money."
Related: See all Medicare articles
This content originally appeared on U.S. News & World Report.
Medically reviewed in March 2020.