What your child wants to know will chiefly involve these concerns:
What is being done?
How much it will hurt?
Why it must be done?
Who will do it?
How will these people do it?
What equipment will be used?
From The Smart Parent's Guide: Getting Your Kids Through Checkups, Illnesses, and Accidents by Jennifer Trachtenberg.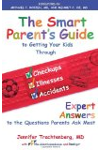 Continue Learning about Tests and Procedures