The intravenous (IV) line must be removed before you leave the hospital. Don't leave with one in your arm -- tell your nurse! And please don't take it out yourself; it is not like in the movies! Any improper attempt at removal may result in bleeding and infection.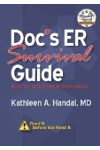 More About this Book
Doc's ER Survival Guide (DocHandal's Guides)
Few people get through life without at least one trip to the emergency room (ER), either as a patient or support person for a family member or friend. Doc's ER Survival Guide is designed to help...
Continue Learning about Medical Techniques & Procedures