It is best to lie down when your nurse gives you a shot, even if the shot is in your arm. Lying flat helps to distribute the medication more effectively into your system. If you're right-handed and the nurse wants to give you a shot in the arm or start an IV, ask to have it in the left arm. If you know where you have a good (easy) vein to access, whether for an IV or drawing blood, speak up. This will make it easier for you and the technician or nurse.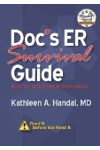 More About this Book
Doc's ER Survival Guide (DocHandal's Guides)
Few people get through life without at least one trip to the emergency room (ER), either as a patient or support person for a family member or friend. Doc's ER Survival Guide is designed to help...
Continue Learning about Medical Techniques & Procedures