Here's how you can plan a quick and healthy meal:
Limit mid-week meal menus to three to four stand-alone foods that cover all of the Macro-nutrients:
Protein/fat from meat
Carbs in the form of pasta, grain, potatoes, etc.
Primary-colored fruits and vegetables
Limit preparation time to 30 minutes.
When roasting or broiling, line all pans in the oven with foil to minimize clean-up.
Keep your kitchen stocked with stand-alone foods so you can mix and match without a recipe.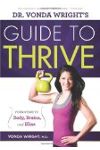 Grabbing a meal on the run or popping frozen meals into the microwave may seem like a time saver, but fast, healthy meals can be prepared at home too.

The key is planning. For breakfast, stock up on whole-wheat English muffins, whole-grain cereals, breads, peanut butter, low fat cheeses and yogurt. Make sandwiches with peanut butter or cheese or mix cereal and yogurt together for a meal in a bowl.

Similar combinations work for lunch and dinner. Whether it's pasta and chicken with ready-made sauce or a frozen pizza topped with vegetables, fast and healthy can go together. Cooking on the weekends will help to save food "prep" time during the week. Prepared foods like grated cheese, skinless chicken strips and prewashed salad greens are real time savers.
Continue Learning about Meal Planning and Weight Loss