Grabbing a meal on the run or popping frozen meals into the microwave may seem like a time saver, but fast, healthy meals can be prepared at home too.

The key is planning. For breakfast, stock up on whole-wheat English muffins, whole-grain cereals, breads, peanut butter, low fat cheeses and yogurt. Make sandwiches with peanut butter or cheese or mix cereal and yogurt together for a meal in a bowl.

Similar combinations work for lunch and dinner. Whether it's pasta and chicken with ready-made sauce or a frozen pizza topped with vegetables, fast and healthy can go together. Cooking on the weekends will help to save food "prep" time during the week. Prepared foods like grated cheese, skinless chicken strips and prewashed salad greens are real time savers.
Here is a list of 5 fast, but healthy meals:
1. Take turkey meatballs, mix with salsa and put in crock pot for at least 5 hours. Serve over whole grain rice or pasta with a vegetable and salad.
2. Place shredded chicken or pork in crock pot for at least 5 hours. Add, either, teriyaki, BBQ sauce or buffalo sauce. Serve with whole grain wraps or rolls along with celery and carrots sticks and a hot vegetable.
3. Chicken Enchiladas: Mix 1 jar of salsa with 1 pack of low-fat cream cheese and add chicken. Wrap in whole grain tortillas and cover with additional salsa and shredded low-fat cheese. Bake until hot and serve with vegetable and salad.
4. Take a whole grain flat bread shell and coat with olive oil. Add tomatoes and basil along with low-fat mozzarella. Bake until cheese is melted. Serve with spinach salad.
5. Mix chicken and your favorite buffalo sauce. Sprinkle with some blue cheese and low-fat mozzarella. Bake until hot and cheese is melted. Serve with celery and carrots sticks.
Here's how you can plan a quick and healthy meal:
Limit mid-week meal menus to three to four stand-alone foods that cover all of the Macro-nutrients:
Protein/fat from meat
Carbs in the form of pasta, grain, potatoes, etc.
Primary-colored fruits and vegetables
Limit preparation time to 30 minutes.
When roasting or broiling, line all pans in the oven with foil to minimize clean-up.
Keep your kitchen stocked with stand-alone foods so you can mix and match without a recipe.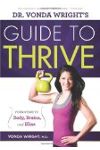 Recipe expert and Dr. Oz Show guest Todd Wilbur has made a career out of cloning favorite foods so you can make them yourself. In this video, he shows how much healthier a Big Mac can be when you cook up his version at home.
Continue Learning about Meal Planning and Weight Loss