I really only have one rule regarding vacation eating: Enjoy your vacation. A week or two eating off your diet plan will not set you back. Eat with elegance and watch your portions. You'll note that many other countries have smart portion sizes, as they don't place the same value on things oversized or supersized like we do in the United States.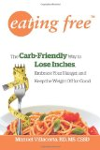 Even when on vacation, you can still make good choices as long as you know what to choose.
In the morning, choose scrambled egg whites, bran cereal or oatmeal. And in the afternoon when everyone else orders a burger for lunch, choose to have the ground beef or turkey in a bowl with brown rice and veggies instead of on a bun.
Remember – you're not required to eat clean the entire time you're at play, but you've got to earn the days you cheat by making good choices!
The 3-1-2-1 Diet: Eat and Cheat Your Way to Weight Loss--up to 10 Pounds in 21 Days
Continue Learning about Meal Planning and Weight Loss