The many benefits of Swedish massage include increased relaxation, greater mobility of joints, decreased muscle tightness, and improved circulation, which may speed healing and reduce swelling from injury.

Studies at the University of California at Irvine concluded that patients who received a combination of Swedish massage and acupressure prior to chemotherapy had less pain and nausea during and after the treatment. Surgical patients who had Swedish massage before the operation required less medication than those who did not. In a study of hospital nurses published in the Journal of Perianesthesia Nursing, researchers found that after eight sessions of 15-minute massages, pain and tension were greatly reduced.

In another study published in the International Journal of Neuroscience by Dr. Tiffany Fields and other researchers at the University of Miami Touch Institute, massage therapy was found to reduce anxiety and enhance EEG pattern of alertness and math computations.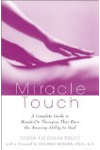 Continue Learning about Massage Therapy