Targeted massage is an essential ingredient in the successful treatment of muscular neck and back pain, so even if you cannot get someone to help, you must find a way to accomplish the goal of locating and disrupting adhesions and spasm. The best technique for self-administered targeted massage to the upper and lower back is with the aid of a junior-sized basketball. Any type of tennis ball, soccer ball, or basketball can also be used, but stay away from golf balls or baseballs -- they're just too hard. A tennis ball will usually slide around on a smooth wall, so you can try placing it in a doorjamb or wide corner.

You can locate the spasm by getting into a semiseated or squatting position and then placing the ball between your back and a wall. By pressing your back against the ball, you will generate the same type of pressure into the tissues that would be applied if you had someone doing it for you. Using mild to moderate pressure, slowly wiggle your body around, trying to manipulate the ball into different areas of the affected muscle. If the entire area is extremely painful or shooting pain is produced, do not continue until the procedure becomes more tolerable. Once the soothing or relaxing effect of the pressure turns to a sharp or ice pick-like pain, you have found the right spot.

With the ball firmly on the spasm, spend another one to two minutes applying heavier pressure to the site. By using a very limited up-and-down or side-to-side motion, you can produce the effect of massaging action. Do this twice daily. Some people feel more comfortable lying on their back and placing the ball between their back and the floor. A tennis ball is too small for this technique, so you'll have to use something bigger. Don't try to lie straight back onto the ball; that is much too difficult. Start by lying on your side, and then roll your back onto the ball. Also, it may help to have a chair close by so you can hold on and help stabilize yourself. If you try this technique, be sure to move slowly and under control. Remember, this is not an athletic event; it is a controlled, targeted massage.

Although this looks similar to the way people use very large, soft balls to stretch their back in gyms or physical therapy, it is actually a very different procedure. While those large balls may be good for general stretching, they do nothing to disrupt the adhesions that you are targeting with this massage technique.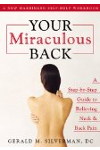 Continue Learning about Massage Therapy