Offering a massage lets your partner know you recognize his or her need for a little attention. Your partner will appreciate your thoughtfulness, and this gesture will help improve your intimate relationship in the long run, both emotionally and physically. The power of touch is not to be underestimated. How can you give a massage to remember? To make massage night truly special, set the mood. Dim the lights and use a linen spray infused with pheromones to enhance your sexual scent. Don't be afraid to be dramatic -- throw rose petals on your bed! Light candles to create a soft glow.

Now on to the main event! Light a soy candle and let some of it melt. Blow out the flame and then pour the melted wax directly onto your lover. Soy melts at a very low temperature, so there is no risk of being burned by hot wax. You can then rub the warm oil into your partner's skin. It only takes a few drops to do a whole body massage!

Need a little twist? Try giving your massage with a personal massager, which will add stimulation and relieve you of some of the work. Enjoy!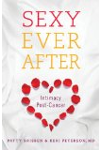 More About this Book
Sexy Ever After: Intimacy Post-Cancer
Recent studies show that 40-100 percent of men and women who have been treated for cancer have experienced some level of sexual dysfunction. Sexy Ever After: Intimacy Post-Cancer will help you...
Continue Learning about Massage Therapy