In order to improve your MMA fighting shot speed, perform the sport loading drill. After completing your foam rolling and dynamic warm-up, attach some resistance tubing to a solid post. Once you have secured a sturdy and safe location, place a standard weight belt through the handles of the tubing, and snuggly and securely put the belt around your waist so that the resistance is pulling from behind. Walk forward until a significant amount of tension is felt tugging you slightly backwards. Assume a wrestler's shot position, and shoot forward explosively for the desired amount of steps. In order to have this drill translate better to the mat, have a partner stand as your opponent. You can then take your shot, explosively driving your partner to the mat. Be as creative as possible and try various angles as well as real fight situations.
Continue Learning about Martial Arts & Combat Sports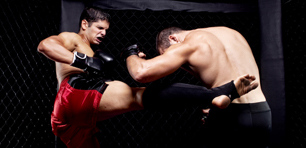 Martial Arts such as karate, wrestling, tae kwon do to name a few, provides many health and fitness benefits. It improves speed, strength, balance, core strength, and breathing. Martial Arts also helps boost confidence and self-es...
teem.
More