A uniform donor card lets healthcare professionals know that you want to donate your organs (for example, eyes, heart, liver, tissue) when you die. It is important to make your wishes known ahead of time by signing a uniform donor card. In most states, you can declare your wishes when you apply for, or renew, your driver's license. Be sure your family, ICE contact and your medical power of attorney know about your choices and intentions.

You need to know: When a patient is pronounced dead in the emergency room (ER), someone from the hospital, typically the ER charge nurse, is required to call and report the death to the federally designated, not-for-profit, organ procurement organization for the state. If the deceased was a donor or can be considered a potential donor, the nurse will then discuss and possibly ask the designated family member to sign a consent form allowing the removal of the organs. Everyone recognizes that this is a difficult time for the family. It's important for the deceased's family to remember that other people's lives are on the line and the donation could be a lifesaver for someone else.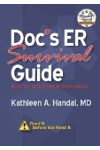 More About this Book
Doc's ER Survival Guide (DocHandal's Guides)
Few people get through life without at least one trip to the emergency room (ER), either as a patient or support person for a family member or friend. Doc's ER Survival Guide is designed to help...
Continue Learning about Managing Your Medical Records