While a spouse does not share hereditary risk factors, you do share similar environmental risk factors. Many health conditions are considered multifactorial where there is both a hereditary AND an environmental component. By identifying potential environmental risk factors, your physician can suggest modifications to minimize their effect. While you can't change your genes, you can change your environment.
When compiling your family health history, or giving your doctor this info, don't forget to include your husband, wife, or significant other - even though he or she isn't a blood relative.
Why? Your spouse lives with you - at least I hope he or she does. That means you both share the same environmental exposures and, likely, similar risks. You serve as each other's personal coalmine canary.
One of you may, say, get nauseous from the toxic waste buried under your screen house years before the other one. And even though you don't share DNA (at least not on most school nights, anyway), your spouse influences your health far more than Aunt Sadie in Perth Amboy, New Jersey. Sure, Auntie may have a cholesterol count that would bring a Guinness World Records rep to her door, but she isn't filling your day-to-day life with cigarette smoke, bacon, Pabst Blue Ribbon, and lost sock tiffs.
The only thing worse for your health and longevity than having a spouse is not having one, in fact. Being nagged into eating broccoli pays dividends.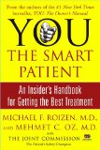 Generally, you do not need to include your spouse's health history, as the health conditions of your partner will not affect your health. An exception is diseases that can be passed between each other.
Continue Learning about Managing Your Medical Records