What's in your medical file? It's stuffed full of reports, microfilms, and other media with a similar topic: you. Each time you visit a physician or enter the hospital, more info goes into that file. Although it's likely a thick file, it's probably far from complete—or assembled in one place.
Your medical file can be tapped by your insurance company or other organizations in case of a lawsuit or other legal issue—which is why your privacy rights are important. You might think of it as a credit report for your body.Among other things, it will contain…
Consent forms. You sign these before undergoing any surgery or medical procedure. Read them carefully before signing; make sure that your name is spelled correctly, the described procedure and site of your surgery are correct, and the like.
Consultations (a fancy name for second opinions). Any reports made by doctors other than your primary care physician (such as a specialist) get thrown in this category.
Discharge summaries from any hospital stays.
Medical history and physical information, such as any illnesses and surgeries you've had, any current medical conditions and medications you're taking, your family history, and the like. This part of your file will also include your doctor's notes from appointments, which might make for entertaining reading.
Immunization history and record, which shows which shots you received and when.
Pathology reports. If you had tissue removed and analyzed during surgery, the analysis of the tissue (was it cancer or not?) will be here.
Physician's orders. These are the specific directions your doctors gave you after specific appointments and procedures.
X-rays and imaging reports. While x-rays, mammograms, and ultrasound films themselves are usually kept in the radiology department or on a computer, your medical record will usually include the written findings from those tests. More recently, however, digital images are being stored on computer disks and in your doctor's or hospital's computer system, so accessing them (with your permission) is easy for second opinion docs and others.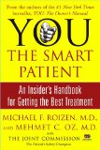 Continue Learning about Managing Your Medical Records