Do you have a living will? Have you or your relatives signed a health care power-of-attorney form? What about a Do-not-resuscitate order (or DNR in health lingo)–did your relative sign one, or did she just tell you that she didn't want any heroic measures taken to revive her?

Opting out of important contracts like these has authored some of the most exciting (and controversial) moments in health care in the last 20 years. Relatively few people take advantage of these patient rights, so there's still plenty of day-to-day action to be seen. The court cases, the relatives throwing chairs, the television cameras…who needs Jerry Springer? As long as you and other Americans overlook these measures by thinking they're just too grim, too unlikely to matter, or just too complicated to figure out, there will be no end of these thrilling scenes to enliven our workplaces.

Now, if you don't want to become a participant in these dramas, you may want to look into your patient rights and complete some of these contracts.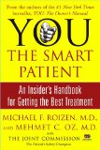 Continue Learning about Managing Your Medical Records