In some communities, health history and medication information is kept on the refrigerator and a marker is placed on either an entrance door or refrigerator door, alerting emergency personnel to its whereabouts. You can contact your local fire department or ambulance service to determine if this practice is common in your community and what you can do to participate.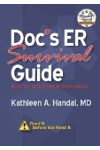 More About this Book
Doc's ER Survival Guide (DocHandal's Guides)
Few people get through life without at least one trip to the emergency room (ER), either as a patient or support person for a family member or friend. Doc's ER Survival Guide is designed to help...
Continue Learning about Managing Your Medical Records