If the US Department of Health and Human Services has its way, soon you'll carry your entire health record in a container that's so thin you could use it to jimmy open a door. It's been busily creating the futuristic-sounding National Health Information Network, which will make the health records of each and every (willing) American accessible on the Internet and may allow us to carry copies of our digitized records in something resembling a credit card.

With one swipe or download from your key chain and a password from you (was it the dog's name or Aunt Mabel's street address?), a new doctor will have all of your health info immediately. A specialist in Oregon will be able to call up your x-ray online and discuss it with your primary care doctor in Georgia, who's looking at the same digital picture. There will be no waiting for test results to be sent from the lab to your doctor and then to another physician. Drug prescriptions might be checked against the online records, to prevent dangerous errors and potentially save thousands of lives every year.

Of course, there are some things that still need to be worked out, such as how the network will function, where the data will be stored, how records will be protected, what laws will govern use of the data, and other such trifles.

While this network sounds like an Orwellian nightmare to some people, a survey found that 72% of Americans like the idea—just so long as the privacy protections are rock-solid (and given that major credit card companies still have their databases hacked fairly frequently, that second part may not be the easiest feat.) We especially don't want your boss peeking into your file; 68% of survey respondents want the data off-limits to employers.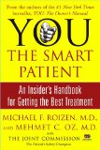 Continue Learning about Managing Your Medical Records