Don't dodge a diagnosis. If you have any inkling that something else is going on with your body beyond a condition remedied through traditional diet and lifestyle choices, speak up! Plan a visit with your doctor and have that conversation. If you don't know what you're dealing with, you can't begin to take proper action. Energy woes can be blamed on conditions as straightforward as anemia (low red blood cells that provide much-needed, energy infusing oxygen) to those as complex as fibromyalgia, rheumatoid arthritis, or menopause. If you suffer from migraines, do what you can to manage them with attention to dietary triggers, sufficient sleep, and medication when necessary. If you're in insomniac, then ask your doctor about visiting a sleep lab. You may have sleep apnea, which can be easily treated and which will allow you to get your life -- and energy -- back! In sum: get help.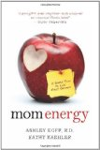 More About this Book
Mom Energy: A Simple Plan to Live Fully Charged
       From celebrated dietitian Ashley Koff and fitness trainer to the stars Kathy Kaehler comes Mom Energy, an exciting new way for moms to tap into their own natural and renewable sources of...
Continue Learning about Managing Your Health Care