The nurse is going to look at your list of medications and ask you when you last took each one. If you are admitted to the hospital, chances are the hospitalist is going to order the drugs on this list for you, along with medications needed to treat the reason for your admission. Make sure the list you provide is current and dated! Don't add new medications to the list without deleting the old ones your doctor told you to stop taking. List if stopped within a month.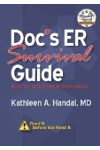 More About this Book
Doc's ER Survival Guide (DocHandal's Guides)
Few people get through life without at least one trip to the emergency room (ER), either as a patient or support person for a family member or friend. Doc's ER Survival Guide is designed to help...
Continue Learning about Managing Your Health Care