I'd call the hospital's admissions office and ask these questions if I were considering using that hospital for any reason—removing my husband's gall bladder, replacing my eighty-year-old aunt's hip, or getting ear tubes for my kid.
What percentage of the staff physicians are board certified? About 85 percent of all U.S. physicians are board certified. The percentage of certified physicians may be even higher at a large urban hospital. "Board certified" means that a doctor has passed an exam given by a specialty board of the American Board of Medical Specialties in one or more of twenty-four areas.
May I see your recent patient-satisfaction survey results? If the hospital is doing a good job, they should want to share that. If the results aren't up to snuff, it's better to find out now.
What percentage of the nurses are RNs? Registered nurses have more training than licensed practical nurses (LPNs). On average, about 85 percent of a hospital's nursing staff is RNs.
Does a pharmacist participate in daily rounds, at least in the intensive care unit? You want the answer to be yes. A study found such participation reduced medication mistakes by two-thirds.
What other hospitals are you affiliated with? Good to know, right?
Do you have a written description of your services and fees? If yes, ask them to e-mail you a copy of it.
From The Smart Parent's Guide: Getting Your Kids Through Checkups, Illnesses, and Accidents by Jennifer Trachtenberg.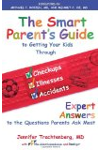 Continue Learning about Managing Your Health Care