If your child is being released, there's just one little thing you're waiting on: your discharge paperwork. It will include instructions on how to care for the illness or injury at home; any follow-up treatment that may be necessary from your regular doctor; and a number to call if you have problems or complications. Some Emergency departments (EDs) will send a record of your visit directly to your pediatrician; ask about this.

It is really important that you call your pediatrician when you get home and explain everything that happened. Why is this vital? So your pediatrician can document the ED visit in your child's medical records and follow up on any concerns or new developments. For example, if your child was treated for a severe allergic reaction, your doctor needs to figure out what caused the problem and how to avoid it in the future.

From The Smart Parent's Guide: Getting Your Kids Through Checkups, Illnesses, and Accidents by Jennifer Trachtenberg.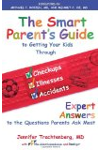 Continue Learning about Managing Your Health Care