It is reasonable to travel a long distance to find the right surgeon. In fact, in my Plastic surgery practice, we have had patients fly in from over 23 countries to have breast revision and body sculpting surgeries to Beverly Hills, California. This week alone, we have operated on patients from Toronto, Canada, Sydney Australia, and London, England. In certain parts of the country, there may not be specialist for the surgery you desire and therefore traveling may certainly be your safest and best bet.
If your surgery is especially tricky or dangerous, and one of these specialists or hospitals has significantly greater experience in performing it than any surgeon you can find locally, you may consider traveling to have this doctor perform the surgery.

Although some patients have enough savings to do this without hesitation, most don't have such deep pockets. Make no mistake, finding the absolute best surgeon (and leaving your insurance network to do so) can rack up bills that look like Bill Gates' bank statement.

But whether you're rich or not, always do this research so you at least know your options. What's worth your money (or future debt), only you can say. In the long run, getting the best care is often less expensive than paying to correct the mistakes of less-than-perfect care. When it comes down to it, you might decide that having the absolute best brain surgeon is worth cashing in some of your retirement savings because retirement might be a lot less fun after undergoing sub-par brain surgery.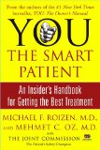 Continue Learning about Managing Your Health Care