The perfect time to scout for the best hospital is when you don't need one. And doing it now will let you be objective and unhurried in evaluating which hospital in your area would be your go-to choice. The absolute worst time to make this decision is exactly when most people do; they don't give it a thought until a paramedic is looking them in the eye and asking, "Do you have a preference of which hospital you want to go to?"

"Huh?"

Wham! From the very first moment of a health crisis, you're unprepared and not in control.

The best hospital, of course, depends on what you need it for. If you're having surgery, it's vital to find a qualified, Joint Commission–accredited hospital that's highly experienced in doing the procedure you need to have done. But what about when you or a family member needs emergency care? Or you need to recuperate from a procedure? Or you need to have a battery of tests done?

This decision gets hairier than a barber shop floor because the hospital where your doctor is the kingpin may be excellent at total hip replacement, but it might be the absolute last place you'd want to go if your heart was calling it quits at 1:00 AM. Likewise, the hospital that was unbeatable when you were in an auto accident and needed emergency care to stop bleeding might not be the best joint to be admitted for cancer care.

You should consider these factors at least as well as you consider which automotive shop to take ole Bessie for her 30,000-mile checkup. Don't leave your hospital choice to chance!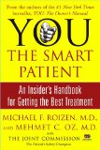 Continue Learning about Managing Your Health Care