All hospital staffers must WASH THEIR HANDS before treating your child and before touching any object that may come in contact with your child. Guess who must enforce this commandment? That's right. You. Make sure that everyone washes with soap and warm water or uses a hand sanitizer before they touch your child. (This goes for you, too.) Hand washing is the single most effective way to keep your child from picking up an infection that could be life threatening. It's not an idle precaution: Hospitals that successfully increase hand washing see their infection rates drop.
If it's so basic and sensible, why do you have to worry about making sure doctors and nurses wash their hands? Because hospital staffers forget to do it. Constantly. Studies estimate that hand-washing rates in hospitals average 40 percent to 60 percent on "a good day." One study found that medical students washed their hands most often, while surgeons, anesthesiologists, and critical-care doctors washed their hands least often. Not what you want to hear, right? That's why you have to be the cop. You might have to repeat "Please wash your hands" so often while your child is in the hospital that you start mumbling it in your sleep.
Now, I know it's not always easy to say, "Excuse me, doctor, but please wash your hands or use the sanitizing gel before touching my child." It can feel like you're criticizing or being bossy. But it's every staffer's obligation to do so and your right to demand it. Some parents are squeamish about mentioning hand hygiene to harried doctors and nurses for fear of aggravating them. Don't be. Because here's the harsh reality: If you wimp out on insisting that all staffers wash their hands, you're endangering your child's life.
From The Smart Parent's Guide: Getting Your Kids Through Checkups, Illnesses, and Accidents by Jennifer Trachtenberg.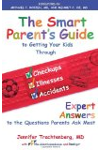 Continue Learning about Managing Your Health Care