To shorten your hospital stay (and make it safer), you want one doctor to be the head coach who calls (or approve) all the signals, and you want that doctor to be on the job full time. Having two or more doctors in charge (or acting without getting approval from one main doctor) can lead to dangerous errors.

You can have your primary care doctor lead the team if he or she has the time to spend in the hospital with you. Or have one hospitalist (a full-time hospital doctor without a private practice) who knows your primary care doc well coordinate everything. Or you could ask your specialist to oversee all of your care.

The bottom line: You want one doctor to oversee your entire treatment regimen, approve all prescriptions, and know everything that's going on. This will help avoid mistakes and also help you get the heck out of that hospital as soon as possible.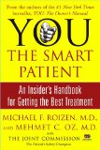 Continue Learning about Managing Your Health Care