It's fairly easy to prevent MRSA (methicillin-resistant Staphylococcus aureus, a much hardier variation of the common "staph" bacterium), and other bugs too, from attacking your child. The first step is the obvious one: religious hand washing. Second, and just as important, is making certain that medical equipment isn't contaminated. Any piece of equipment that touches your child (such as a stethoscope) should be wiped with alcohol before use, unless the staffer just took it out of a sterile container.
One big tip: If your child needs an IV, make sure it is inserted and removed under clean conditions, ideally, in a sterile treatment room by a gloved nurse. The skin should be cleaned with alcohol and/or Betadine solution before the IV is insterted, and the IV should be changed at least every three to four days.
From The Smart Parent's Guide: Getting Your Kids Through Checkups, Illnesses, and Accidents by Jennifer Trachtenberg.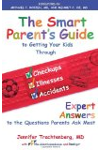 Cleanliness and neatness can help protect your child from MRSA:
Wash your hands often using soap and warm water for 15 seconds -- especially after you touch anything. Use alcohol-based hand gel or foam if you can't get to a sink.
Say something if the healthcare team or visitors don't wash their hands in front of you. Gentle reminders are good. If someone gives you trouble or makes you feel uncomfortable after you say something, you could mention it to a nurse manager or other leader to get some help in improving the practice of the unit. Everyone should wash their hands, and reminders are good for the safety of all patients.
Ensure that the hospital room is clean and that garbage is removed regularly.
Ask your nurses and other clinicians to wipe down equipment they might use on your child. Stethoscopes can be particularly strong germ carriers.
Continue Learning about Managing Your Health Care