If there's any good news with children being hospitalized, it's that more studies are revealing what goes wrong and how—and knowing that is the first step to knowing how to fix it. Here are some recent key findings.
One study of thirty-eight American children's hospitals found that the most frequent complications in their young patients were from infections due to medical care, respiratory failure following surgery, and infections in the bloodstream after surgery (sepsis). What's troubling is that the research found that most of the complications were preventable—often simply by better hand washing, sterilization, and other safety techniques that reduce hospital infections. This underlines why it's important for you to ride herd.
Medication mistakes in hospitals have also been under the microscope. According to a 2008 study, drug errors affect 540,000 hospitalized kids in the U.S. every year—far more than experts had estimated. Why is your child especially vulnerable to medication screwups in the hospital? Depending on how long he's there, there's a good chance that several different people will be swinging by his room and giving him dozens of different medications. That's why you need to double- and triple-check to be sure that every pill, injection, IV drip, and inhaler he receives is indeed the correct drug and that it's administered properly and on time.
The most common problems were with pain medications and antibiotics—kids received the wrong drug, received the wrong dose, or reacted badly to a drug. While fortunately most of the errors and reactions didn't cause serious trouble, the study found that 22 percent were preventable. You can help here, too: Remember that if your child is already taking any medications or supplements, or has food allergies, it's vital for that information to get into the hospital's records and to the head nurse. For life-threatening allergies, be sure that your child wears a MedicAlert bracelet.
From The Smart Parent's Guide: Getting Your Kids Through Checkups, Illnesses, and Accidents by Jennifer Trachtenberg.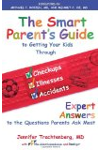 Children, like adults, are vulnerable when they are in the hospital. Protecting them from harm due to either bad people or innocent mistakes is an important role for a parent.

Sharing concerns and remaining an active participant in the healthcare team are appropriate. There are effective ways to show concern and participate while not disrupting care processes. Inviting the staff to engage you as a partner is a good first step.

Understanding what will happen in your child's care is important. Knowing what is expected can help you provide an extra pair of eyes and ears clinicians hope you bring to the table.

Take care to respect all safety signs and messages. Behaviors such as washing your hands, making sure a security door is shut, or not allowing children to run down the halls, can help protect patients from harm.
Continue Learning about Managing Your Health Care