To prepare your school-age child for a hospital stay, try the following:
Begin preparation about one to two weeks ahead of time.
Help your child understand why he or she is going to the hospital.
Go into a little more detail about internal processes as long as your explanation is concrete and honest. The truth is probably less scary than what your child can make up.
Prepare your child for what he or she will see, hear, smell, and feel.
Stress to your child that he or she has done nothing wrong and that hospitalization is not punishment.
Have your child participate in medical play and read books about the body.
Bring comforting familiar items to the hospital.
Allow your school-age child to pack his or her own bag of clothes and personal items.
This content originally appeared on the Alliance for Kids website.
A lot of your prep work will be constantly saying that everything will be okay. From your child's view, he's going to a place filled with big equipment, creepy noises, a strange bed, and people he doesn't know. And, unlike a three-year-old, he's old enough to take these pretty seriously. No wonder he's scared. The key is to be honest and include your child in preparations. Some tips:
If your child is five to seven, start talking about the hospital visit about three days beforehand, depending on his individual development. If your child is eight to ten, you may want to bring it up sooner, depending on his maturity level and attention span. Just don't talk about the hospital so much that you make your child anxious about it.
Focus on the purpose of the trip: to help him get better and back home as soon as possible.
Your child is smart, so be as straightforward as you can and give him permission to be a little upset or cry. If you're painting an overly rosy picture, he'll detect it, even if he doesn't call you on it.
Use terms your child understands when describing what will happen in the hospital. As long as it won't scare your child or gross her out, consider using visuals, such as pictures from an anatomy book, to show your child the body part involved. The hospital may have a video of the procedure that is geared to kids.
Stress the positive outcome expected from the procedure. Remind your child that he will feel better when it's over and soon be able to get back to his favorite activities. And let him know that he'll also have a treat waiting for him, at this age, maybe a new video game or a week without having to clean up his room.
From The Smart Parent's Guide: Getting Your Kids Through Checkups, Illnesses, and Accidents by Jennifer Trachtenberg.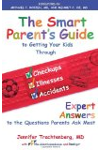 Continue Learning about Managing Your Health Care