Does your child have a favorite blanket, stuffed animal, or toy? Does she have a hat from her favorite sports team or music she likes? Make sure you bring these things to the hospital (and put her name on them). Having these things nearby can help your child feel loved, understood, and connected with life outside the hospital.
Create an environment of warmth, comfort, tranquility, laughter and fun experiences for your child during his/her hospital stay.
Bring his/her favorite toys and "security" blanket to the hospital. Normalize his/her experience in the hospital as much as possible.
Read to your child as you would do at home. Provide him/her with ample attention and affection.
Cuddle and snuggle with your child in his/her hospital bed and tell his/her favorite stories. Imagine together and ask what he/she would like if he/she as a magic wand.
Have his/her favorite snacks if appropriate.
Your child wants to know that he/she will not be left alone in the care of sterilized strangers. Your constant and consistent presence will bring much comfort and rest to him/her.
Remember that little things, besides keeping favorite toys within reach, can be big deals. These easy insider moves can make a hospital adventure more pleasant (okay, less rotten) for your child.
Ask the nurse to always apply numbing gel before your child gets a shot or has blood drawn. Do you know that flavored medicine that dentists apply to your gums before giving a Novocain injection, so the needle won't hurt? A similar med can save your tyke a hundred ouches. Ask the nurse to apply EMLA or lidocaine cream to your child's skin about an hour before a scheduled needle stick.
Set limits. Tell the nurses or interns that if they are unable to draw blood or insert an IV after two attempts, you would like another person to try.
If your child has to wear a surgical mask, have it lined with flavored Chapstick. Cherry, of course.
From The Smart Parent's Guide: Getting Your Kids Through Checkups, Illnesses, and Accidents by Jennifer Trachtenberg.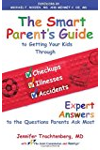 More About this Book
The Smart Parent's Guide: Getting Your Kids Through Checkups, Illnesses, and Accidents
What to Do When You Don't Know What to Do! "Moms and dads need expert guidelines, especially when it comes to their kids' health. This book reveals the inside strategies I use myself-I'm a parent, too!-to avoid critical, common blunders where it matters most: in the ER, pediatrics ward, all-night pharmacy, exam room, or any other medical hot spot for kids. These tips could save your child's life one day. Even tomorrow." -Dr. Jen Making health care decisions for your child can be overwhelming in this age of instant information. It's easy to feel like you know next to nothing or way too much. Either way, you may resort to guessing instead of making smart choices. That's why the nation's leading health care oversight group, The Joint Commission, joined forces with Dr. Jennifer Trachtenberg on this book: to help you make the right decisions, whether you're dealing with a checkup or a full-blown crisis. The Smart Parent's Guide will give you the information you need to manage the pediatric health care system. Dr. Jen understands the questions parents face—as a mom, she's faced them herself. She walks you through everything: from how to choose the best ER for kids (not adults) to when to give a kid medicine (or not to) to how pediatricians care for their own children (prepare to be surprised). Her goal is your goal: to protect the health of your children. There simply is nothing more important.
Continue Learning about Managing Your Health Care