Here are some questions you should ask if your child is undergoing surgery:
What is your hospital's volume and success rate for the particular procedure my child needs? So ask, "How many surgeries like my child's do you do weekly, monthly, or annually, and how many of those are successful?" You must get this info; it's vital. The more surgeries of the type your child needs that a hospital does, the more likely the outcome will be successful. (Practice does make perfect.) The hospital should readily tell you how often the procedure is done there, how often the surgeon does it, and how well the patients fare.
Is the surgeon a specialist in pediatric surgery? (Remember: Kids are different from adults!)
Do you have an on-staff pediatric anesthesiologist? This is a must. An anesthesiologist who isn't a pediatric specialist shouldn't be handling children's surgeries.
From The Smart Parent's Guide: Getting Your Kids Through Checkups, Illnesses, and Accidents by Jennifer Trachtenberg.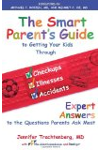 Continue Learning about Managing Your Health Care