When choosing a hospital, especially for cardiac and bariatric procedures, you should choose a center where all of your doctors can communicate freely without referrals.
If you're like 95 percent of the US population, you have several choices of hospitals beyond the two or three that are closest to you. Smart patients choose by always keeping two criteria in mind: (1) Which hospital is best qualified to save my life in an emergency? and (2) Which hospital is best qualified to treat me for nonemergencies or for the things I am likely to need? These questions might steer you to the same hospital. But sometimes they don't.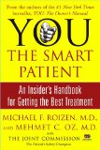 When choosing a hospital, consider which one best meets your total needs. In general, Level 1 trauma centers have ability to save a life in any emergency situation. Often, maintaining your staff membership requires serious scrutinizing by the medical staff department and approval by the chief of staff. This is important because it maintains a level of excellence that that patient deserves. Evaluate the different medical departments for specialties including: surgery, cardiology, neurology, etc.
The process of choosing a hospital should be a deliberative one instead of an emotional one, with emphasis on the importance of looking at available data and other indicators of excellence like how staff members interact with patients and the hospitals appearance. Various nonprofit organizations and private companies and organizations have begun offering consumers a host of rating and comparison tools. The Joint Commission, The Leapfrog Group, and Healthgrades use tracking devices to access performance data of hospitals.
When choosing a hospital, read reviews and check out accreditation centers. But don't discount word of mouth, which is often more valuable.
Continue Learning about Managing Your Health Care