Hospital stays are complicated. When you are a patient, you are not on top of your game; you are not well, and are often medicated and in pain. It is a good thing to have a designated person to stay on top of what is going on with your care. This can also reduce the stress felt by your family during this time. Retaining a patient advocate is an important strategy to help control your care and the post-hospitalization administration and management related to your stay. Having a healthcare advocate will allow you to focus on recovering, and allow your family members to offer their full support. A healthcare or patient advocate could be a family member, but does not have to be.
Consider this thought. It's likely that you wouldn't enter the legal system without an attorney and it's best that you don't enter the healthcare system without an advocate.
On its best day, our healthcare system is not exactly 'user friendly' and when you're already sick or stressed about what you might have, it can be a nightmare to maneuver through. You need help. Someone to take your hand and show you the way. Someone you can trust. Someone who can listen for you and take notes AND ask questions during an appointment. Someone who may be able to communicate on your behalf so that your care can be expedited.
Two heads can be better than one so if you're entering the healthcare system, definitely think about enlisting the support of an advocate.
Healthcare and health insurance can be complicated and confusing even when you're feeling as right as rain. But, it can get even more complicated and confusing than an advanced calculus proof when something goes seriously wrong. That's where a healthcare or patient advocate can be really, really helpful. At a time when you may not be thinking clearly, at your best, or even know what to do or ask, a healthcare advocate can take notes on what the doctor explains, ask questions, arrange appointments and transportation, and help you navigate your way through the maze of a healthcare system. A healthcare advocate can be anyone you want -- a spouse, family member, friend -- or even someone you hire. In fact, some health insurance policies will even pay for your healthcare advocate.
Whether you're visiting your doctor or you're a patient in the hospital, having a health care advocate (or patient advocate) with you is a great idea. Let's face, visiting your doctor or being a patient in a hospital can be very scary and overwhelming. Ask a trusted family member or friend to be your advocate. Having someone you trust with you can help ease the chaos and stress. They can help decipher the information and take notes. They can help speak up on your behalf. Even if you're able to make your own health care decisions having someone you trust at your side can help you get the care you need.
When you're undergoing treatment for a health problem, considering surgery, or maybe even just trying to do your best to stay healthy (if you're older, disabled, or have other adversities), it's smart to enlist a partner. You know, a trusty second-in-command to help you keep things clear, assist you with tasks, and make sure you don't miss anything.

I recommend asking a friend or family member to act as your healthcare advocate.

What is a healthcare advocate? Simply a supportive, reliable person who serves as a second set of eyes and ears in helping you get the best care. This person can accompany you to appointments, suggest questions for your doctor, prevent oversights and mistakes, help you understand and remember care instructions, and keep an eye on you to make sure you follow those care instructions between appointments. They may take notes in the exam room, or they can sit in the waiting room and then discuss everything with you over coffee after the appointment; whatever works best.

If you have a friend or relative with a medical background who's willing to help you, they could be a great choice, obviously. But your advocate doesn't have to be an expert—just someone who will stand by you and help you communicate with your doctor and any others who are treating you. Your spouse can be a fine choice, of course, if he or she has the temperament for it. You want someone who's organized and will be a stress reliever. If the person you're sleeping with doesn't fit that job description, enlist another comrade.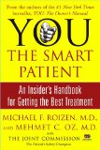 Continue Learning about Managing Your Health Care