The following questions can help you evaluate the quality of any material you find.
Who wrote or created the material?

Any health information, whether in a brochure, a book, or online, should clearly identify the author or persons responsible for the material.

The source of funding can affect what and how information is presented. For example, drug company-sponsored information tends to downgrade or ignore nonmedical or nonpharmacological approaches and is slow to present innovative alternatives or preventive treatments. Try to determine if the author(s) or site owner(s) have a financial interest or anything else to gain from proposing one particular point of view over another.

Who is paying for the research, article, ad, or website? What is the person or group's motivation?

In addition to the authorship of the material you are reading, the evidence the material is based on should be provided. Medical facts and figures should have references, and opinions or advice should be clearly labeled as such and set apart from evidence-based information.

What is the basis of the information presented?

As we learn more, we may read and hear many competing claims and statistics. Understanding the different types of research studies behind these numbers can help us evaluate their results and make informed health care decisions.

What research was done, and what did it prove?
When was the material written or compiled?

All content should have a date on it, so you can tell when the material was written or last revised. Information on safety can change. Material on treatments for life-threatening diseases and invasive procedures may be outdated in months, while information about self-care and day-to-day health concerns is likely to be accurate for somewhat longer.

Be wary of "cures" for incurable diseases or remedies that cover too many conditions. Question materials that credit themselves as the sole source of information on a topic as well as materials that disparage other sources of knowledge.

Does the information sound too good to be true?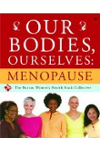 More About this Book
Our Bodies, Ourselves: Menopause
FROM THE EDITORS OF THE CLASSIC "BIBLE OF WOMEN'S HEALTH," A TRUSTWORTHY, UP-TO-DATE GUIDE TO HELP EVERY WOMAN NAVIGATE THE MENOPAUSE TRANSITION For decades, millions of women have relied on Our...
Continue Learning about Managing Your Health Care