Most people just give this mountain of legalese a cursory scan, glaze over, and sign where directed, hoping that the hospital hasn't buried anything too outrageous in the microprint.
But here's the thing: After my years in medicine, I would pour over those forms with a magnifying glass. And so should you. You not only need to understand what you're signing but you have a right to expect those forms to be understandable. And in a growing number of hospitals, they are. The Centers for Medicare and Medicaid Services are prodding hospitals to design patient-friendly informed-consent processes. Hospitals that don't comply could lose their eligibility to bill Medicare for treatments. The Joint Commission recommends both easy-to-read forms and "teach-back" methods in which the patient is asked to repeat back what he's been told about the risks and benefits. Even the Department of Veterans Affairs has a new system that's written at a sixth-grade level and covers more than two thousand procedures in thirty specialties.
Ideally, the hospital you choose will have easy-to understand forms. But don't sign anything you don't understand, and do ask for more information if something is unclear. You don't want to find out unexpectedly that you just underwent a procedure that had a 10 percent long-term success rate, or get home and find that the hospital now holds the mortgage on your house.
From The Smart Parent's Guide: Getting Your Kids Through Checkups, Illnesses, and Accidents by Jennifer Trachtenberg.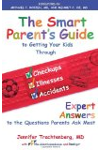 Continue Learning about Managing Your Health Care