Although choosing a fantastic surgeon is critical, the caliber of the hospital or facility where you have the surgery is an equally important factor for success. That's because surgery exposes you to far more risks than the surgeon can control. So when you need to choose a hospital in which to have surgery, be picky. Quality and cleanliness count in restaurants, but here, your life is on the line. Take these three tips to start your search.
Choose a hospital that's been accredited by the Joint Commission. This ensures that the hospital has met various criteria. You can find Joint Commission-accredited hospitals at www.qualitycheck.org.
Check out a large teaching hospital. For any surgery that touches your organs or replaces any body part (that's my definition of a serious surgery), opt for a big hospital (the bigger the procedure, the bigger the hospital) that, ideally, is affiliated with a university. Yes, size matters. Why? These hospitals have top-notch doctors and staffs on hand who are better equipped to deal with complications. Tip: I'd just avoid having surgery in teaching hospitals in the summer, when possible
Check their numbers. You want proof that a hospital staff (not just the surgeon!) performs the specific surgery you need frequently enough to prove proficiency–and that they've had great results.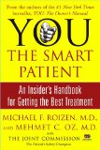 Continue Learning about Managing Your Health Care