As a patient you do have the right to expect good treatment from hospital staff. Some of the way you are treated of course has to do with how you interact with the staff, but the hospital staff are, or should be trained, to recognize patients and their families are in stressful situations. Several national organizations have begun to work on research and make suggestions for how patients and families need to be involved in their own care. The Joint Commission, an organization that accredits healthcare organizations, began their Speak Up campaign about 3 years ago. They encourage patients and families to ask questions and express concerns- such as if their healthcare provider comes into the room and does not wash their hands (which could be a way to spread infections). In 1997 the President's Advisory Commission on Consumer Protection and Quality in the Healthcare Industry proposed a patient Bill of Rights and these have been adopted by many healthcare organizations. Your knowledge of what kind of rights you have helps you to better understand your healthcare organization and what kinds of things you should be able to expect as far as treatment. You can also see if your hospital has something called Magnet Status, which is an accreditation for their nurses. Magnet insures that nurses are involved in their hospital's governance and are involved in ongoing learning activities and research. The Institute for Patient and Family-Centered Care is another resource that you may find helpful as well. They work to help healthcare providers recognize the rights and contributions that patients and families make to their own health and positive outcomes that occur when healthcare providers, patients, and families understand one another and work together.
You can get the absolute best treatment from a hospital staff by being a respectful, polite, and assertive patient. Communicate thoughtfully and respectfully with staff. Speaking up and communicating needs to be continuous. Partner with your health care team. Listen as they speak and formulate any questions that you may have.
Communication between patients and healthcare professionals is vital for positive patient outcomes and a key factor in helping to prevent any medical errors.. Communication is also imperative for patient safety and good quality patient care. In the very fast-paced environment hospital environment, seconds can mean the difference between life and death, so it's crucial that information flows consistently and thoroughly between patients, their families and staff.
If you have any questions, do not be afraid to ask them. Make sure to present any questions or thoughts in a non-threatening manner. Do not be loud, rude or obnoxious. Your questions will get answered. If you feel that they are not being addressed, there are always other members of the health care team that can assist you. You can ask to speak to a nurse manager or a nursing supervisor, an administrative head nurse, or the director of nursing. There is also a consumer affairs department or patient advocacy department you can address your questions to.
If you never been a people person in your life, now is a good time to get good at it. Saying "please" and "thank you" and treating nurses and other staff as respectfully and kindly as possible could mean the difference between waiting 5 minutes or an hour for a Tylenol.

Learn each nurse's name, and preferably their children's hobbies and talents. Make a note of it, if you have to. Ordering a couple of large pizzas for the nurses at lunch or dinner time isn't a bad idea, either. All these efforts may lessen the odds that you'll wait 45 minutes to get ice water or a pain pill.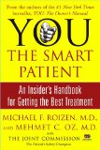 Continue Learning about Managing Your Health Care