When you find yourself churning awful thoughts, turn it around and say something positive about yourself and your commitment to make positive change. For every one thing you say negative about yourself and any "predicament" you might find yourself in, say three things positive. I hate my legs. I love my elbows. I love my chin. I love my hair. I hate my job. I love my children. I love my courage. I love my strength. Self-esteem and self-confidence are very powerful. They are also very energizing.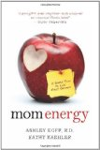 More About this Book
Mom Energy: A Simple Plan to Live Fully Charged
       From celebrated dietitian Ashley Koff and fitness trainer to the stars Kathy Kaehler comes Mom Energy, an exciting new way for moms to tap into their own natural and renewable sources of...
Sometimes with self-esteem we focus on comparing ourselves to others and that is a trap of constantly proving our worthiness in a competition. This encourages self-judgments. Maybe focus on your behavior. Building self-esteem through noticing the positive actions you take each day may be more helpful. Providing breakfast for your family, smiling at the bus driver, opening the door for someone who has their hands full, and other acts of kindness often go unnoticed.
In addition, you might consider focusing on self-compassion. Self-compassion is understanding that we are all part of the human condition with strengths and weaknesses. Self-compassion means being mindful of your experiences and kind to yourself. Self-compassion is about self-acceptance, treating yourself as gently as you would your child or your best friend. Christopher Germer's book on self-compassion might be a good resource.
Continue Learning about Managing Negative Emotions