When we try to avoid a feeling either because it is uncomfortable, because we think we should not feel it, or because we think we are too "evolved" to feel it, we simply end up being stuck with the feeling. The quickest way to get past a feeling is to feel it fully without any resistance, then feel yourself moving through the feeling to its end. At that point we are able to regain and resume our natural state of feeling good. Feeling the feeling without resistance also allows old pools of pain, anger, hurt, etc., to be released much more quickly. By resisting a feeling, you simply stay stuck in it!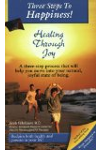 More About this Book
Three Steps to Happiness! Healing Through Joy
Happiness is our natural state of being. It is who we are. This happiness is obvious when you look at little children before they take on society's beliefs. Their natural state is to feel all of...
Continue Learning about Managing Negative Emotions