What you do not want to do is fight or bury the thoughts. This would simply leave you stuck in them. Sometimes, these negative thoughts are our psyche's way of taking care of us. They may reflect ideas that really do appeal to us, but that are in conflict with our belief system. Be open to that possibility. At other times, these thoughts seem to act as our own personal "gremlin" and do not reflect who we are. In both situations, these thoughts can serve us.
Sometimes the thought is actually about something that we truly want but are afraid to acknowledge. In this situation, it will feel good (although sometimes difficult and uncomfortable) to stay with the thought. When this is the case, the thought may simply be our psyche's way of saying that we need to stand up for who we are and what we want. It may also be forcing us to look at uncomfortable feelings that we need to stop burying.
Conversely, we can find out who we are by the contrast of what we do not like -- as much as by what we do. Again, take a moment to feel the "negative" thought without any guilt or reactivity. If it does not feel good, then simply recognize (with a smile) that it is not who you are. Knowing what you are not can actually help you to know yourself. Instead of battling it, tell the previously annoying thought "thank you" for helping to show you who you are! Then simply let go of it.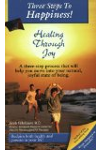 More About this Book
Three Steps to Happiness! Healing Through Joy
Happiness is our natural state of being. It is who we are. This happiness is obvious when you look at little children before they take on society's beliefs. Their natural state is to feel all of...
Continue Learning about Managing Negative Emotions