When you allow yourself to stay conscious of the conflict, a fascinating thing happens. Giving your psyche a problem that it does not have a solution to is like exercising your mind or body. If you continue to lift weights that are challenging, your muscles grow to where you can suddenly lift weights that you previously could not. When you give your mind puzzles that it cannot solve, and let yourself stay conscious of the problem (this does not mean that you think about it all the time; it simply means you do not deny its existence) it exercises the psyche and the psyche enlarges. One day, the solution then comes to you from a totally different angle (sometimes even from another person) and can seem incredibly easy and simple. Staying conscious of the conflict can actually be a powerful tool that helps your psyche and your abilities to grow.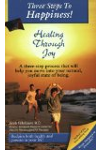 More About this Book
Three Steps to Happiness! Healing Through Joy
Happiness is our natural state of being. It is who we are. This happiness is obvious when you look at little children before they take on society's beliefs. Their natural state is to feel all of...
Continue Learning about Managing Negative Emotions