Watch as men's health and urology expert Dr. Mark Moyad discusses what your penis can tell you about your overall health.
From a broad perspective, the penis is a man's dipstick; it tells you how everything is functioning throughout the rest of your body.

If the solider stands at attention when called to do so, it indicates that you have good blood flow in other places. But if he decides to take a little R&R, it means that a man's arterial health is not as youthful as it needs to be.

That's because the chemical mechanisms that work to get blood in and out of the penis are the same ones that help blood flow to and from the brain, heart, and kidneys. No matter the location of veins and arteries in your body, it's the same blood-flow process.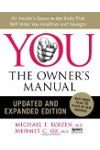 Continue Learning about Male Reproductive System