What is microdissection testicular sperm extraction?
Microdissection testicular sperm extraction (micro TESE) is a procedure performed for men who have a sperm production problem and are azoospermic (they have no sperm in their ejaculate). Microdissection TESE is performed in the operating room with general anesthesia under the operating microscope. Micro TESE is carefully coordinated with the female partner's egg retrieval, and is performed the day before egg retrieval. This allows for each partner to be there for the other's procedure. Patients frequently have donor sperm backup in the case that sperm are not found in the male partner. Micro TESE has significantly improved sperm retrieval rates in azoospermic (zero sperm count) men, and is a safer procedure since less testicular tissue is removed. Patients often cryopreserve (freeze) sperm for future in vitro fertilization procedures.
Continue Learning about Male Infertility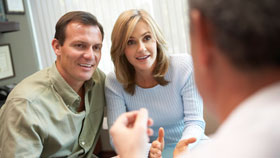 Male infertility includes low sperm count (not enough sperm to reach the egg), low motility (sperm don't move like they should), malformed sperm and blocked sperm ducts. Hormone imbalance, testicular disease, obesity and side effe...
cts from medication or supplements can also contribute. However, in nearly half of cases the cause remains unknown. Treatment options include surgery, medication and diet and lifestyle changes.
More