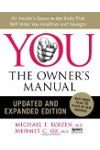 Many things can cause male infertility. That's because the journey a sperm takes to fertilize an egg isn't as simple as swimming a lap in a pool; it's more like crossing the English Channel without a wetsuit. Lots of things have to go right to get from one shoreline to the other.
There are two common problems:
Low sperm count, which means that without as many swimmers, there's less of a chance one will reach the finish.


Lack of sperm mobility, which means the sperm simply don't have the strength to make the entire journey, and those cells die before they reach the shore.